The Jerker Is Coming Soon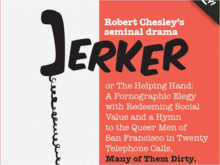 The full title is Jerker (or The Helping Hand: A Pornographic Elegy with Redeeming Social Value and a Hymn to the Queer Men of San Francisco in Twenty Phone Calls). It's a script written by Robert Chesley about a couple of guys who meet over the phone and develop a relationship during the outbreak of the AIDS epidemic in the 1980s.
The Boulevard Theatre presents a staging of the show at the LGBT Community Center on 1110 North Market Street September 18th - 22nd. (There is a pay-what-you-can preview night on the 17th.) Bill Jackson and Marty McNamee star in the show. All shows start at 7:30 pm. For ticket reservations, visit Brown Paper Tickets.com.