×
Every week or so, bloggers very publicly complain that they aren't being taken seriously. Usually it's because they aren't.  Legally, blogs don't receive the same protections. Professionally, agencies don't provide even the most prominent of websites the same level of access as low circulation newspapers. And socially (perhaps Buzz Bissinger-ly), they are viewed with the esteem of a red light district. This week, the Associated Press announced that it would take blogs so seriously as to charge them for using their stories the same way it charges all media agencies. The blogosphere did not particularly enjoy its victory.
No one is going to defend the AP's methods outright. Though bloggers regularly reappropriate entire articles, punishing those who copy a minimum as low as five words seems downright draconian. And the wire service's failure to address the very vital, and very legal, concept of fair use might have a chilling effect on the media at large. The only way to comment on the Plame-outing, warmongering Judith Miller was to quote the Plame-outing, warmongering Judith Miller. Critiquing coverage requires a leniency in copyrights long afforded by free speech laws, and no agency who acts in the name of truth should fear oversight. By anybody. Even 12-year-olds who illustrate posts with Lolcatz.
But hidden in the AP's ridiculous enforcement techniques is a reasonable thing to enforce. The internet is not known for its respect of copyrights. Much, if not most, of the time bloggers take tremendous chunks of articles for no legitimate reason. The AP deserves to protect its content. If bloggers can reprint entire stories, why shouldn't newspaper websites? What happens to the paying customers when the freeloaders rank high on Digg?
So, it's worrisome that at the arbitrary time of 12:01 on Friday the 20th, seven out of the nine "Top News Stories" on the AP website were plagiarized in their entirety on blogs without a semblance of fair use. An eighth had the first half copied on one blog and the second half on another. Wire services and their paying clients still hold exclusivity on the tenth story, the fate of Korean advisors to the beef trade. Hopefully, the lucrative market of beef investors is all it takes not to go out of business.
Below is a screen cap of the AP top stories and examples of blogs that stole the stories. I'm going to call the image fair use. Let's see how much defending the AP costs me.
The term "Citizen Journalist" gets thrown around a lot. But the name doesn't stick unless there is some accountability for both the truth of information and the process of obtaining it. While the AP crackdown is an unpopular thing done in the wrongest possible way, some of its motives are pure. Bloggers: Finally, the mainstream media is taking you as a serious threat. Let's make that threat a rival, not a monkey-wrench.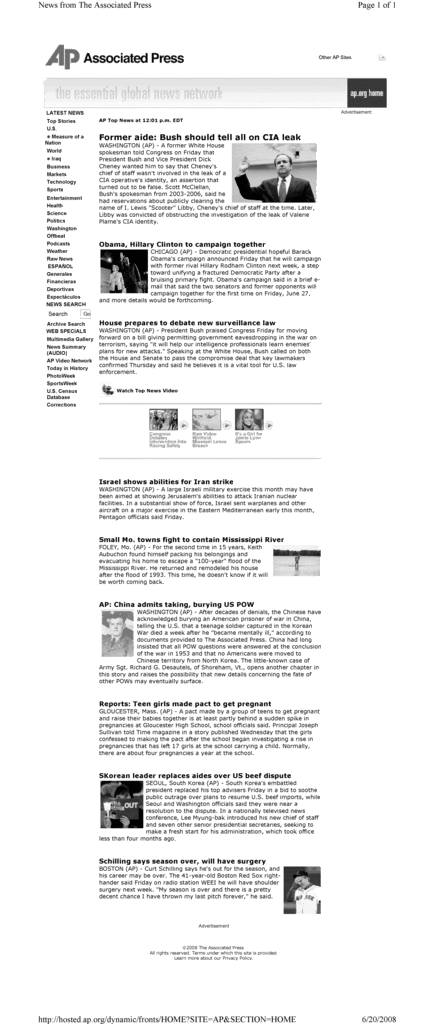 Former aide: Bush should tell all on CIA leak
Obama, Hillary Clinton to campaign together
House prepares to debate new surveillance law  -- Combine the following:
http://www.democraticunderground.com/discuss/duboard.php?az=view_all&address=102x3360528
http://www.tothecenter.com/news.php?readmore=5594
Israel shows abilities for Iran strike 
Small Mo. towns fight to contain Mississippi River
AP: China admits taking, burying US POW
 
Reports: Teen girls made pact to get pregnant
SKorean leader replaces aides over US beef dispute -- None.